FISE World Montpellier
FAQ FISE Montpellier 2023 💬
FISE Montpellier is fast approaching and we know that you can't wait for the 2023 edition!
While waiting to see you again on the banks of the Lez, here are all the answers to your questions that will help you prepare for your week in Montpellier.
Ticketing 
The FISE Montpellier ticket office is already open, you can choose the type of ticket that suits you best to make the most of the festival!
The free 5-day tickets will be available on April 17, 2023
The FISE Montpellier ticket office (free E-ticket included) is only available on the Internet (Ticket to be printed at home or presented on smartphone)

TICKETING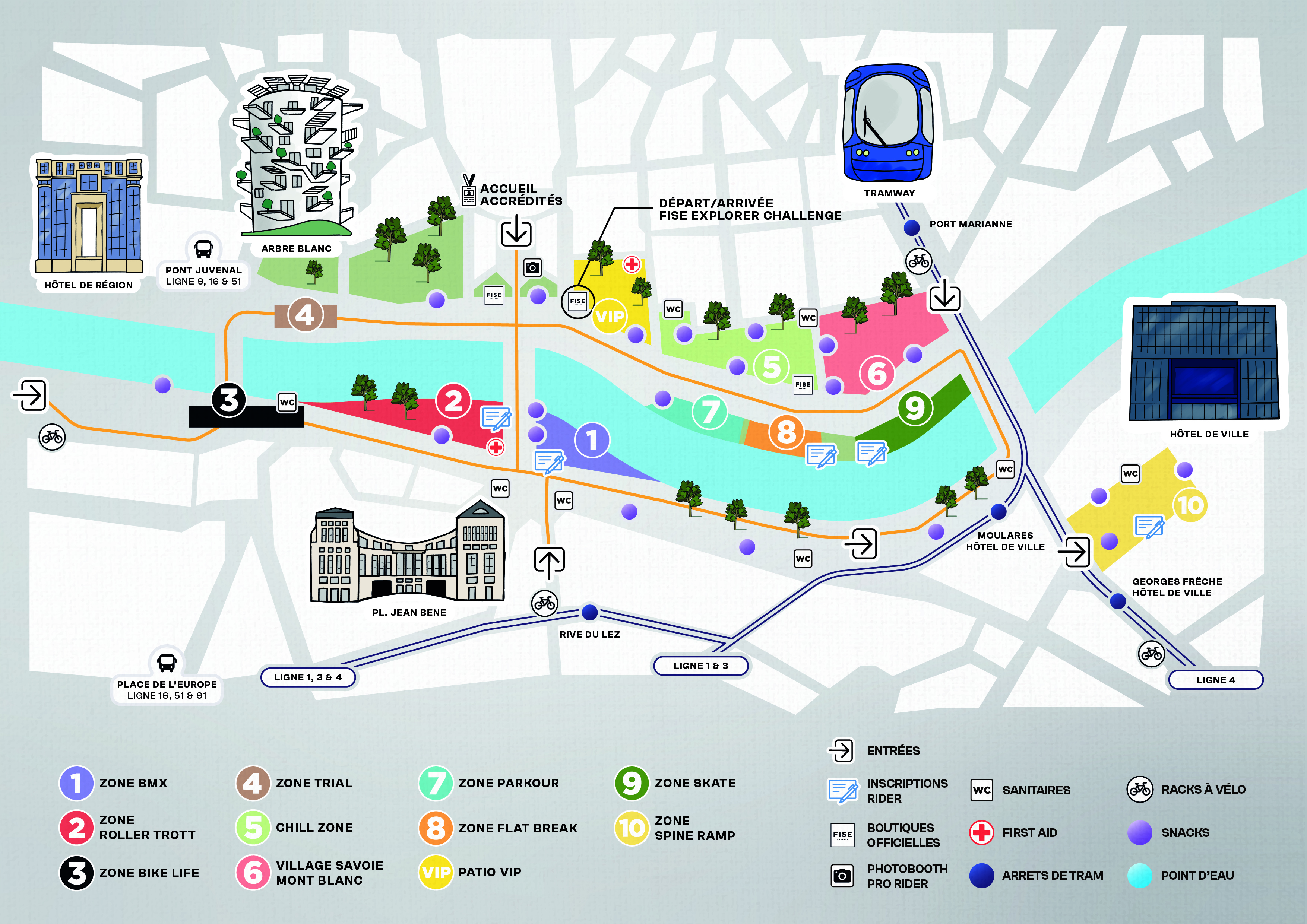 I have a problem with my ticket
For any problem encountered on the ticket office of the event or with your ticket, please detail your problem by email 👉 ticketing@fise.fr
I would like to consult the full program of the event
The FISE Montpellier program is already available on our website.
I am a rider, I want to register
Registrations are open from March 27 to May 29, only online, there will be no on-site registrations this year.
For more details on competitions or accommodation, please contact the sport team by email 👉 sports@hurricane-agency.com
For the following disciplines, registration information is coming soon: Parkour (FIG), Bike Life, BMX Trial, Breaking
How to come to FISE Montpellier?
Address: Rives du Lez, Montpellier (34000), FRANCE

Tram, bus, skateboard, or even bicycle you can come to the festival without problem.

Prepare your tram journey on the TAM website
One thing to remember, the stop: Rives du lez
Montpellier Saint-Roch Station is located in the heart of the city, 1.5 km from the event.
To get there on foot, it will take you 20 minutes. At the exit of the station, the tram lines to remember: 1, 3 and 4 - Stop: Rives du lez
If you don't live in Montpellier, to come, take the A9, at exit 29: Montpellier Est
Join the Odysseum Circe car park - Then the Tramway line 1 - Stop: Rives du Lez
Or the A75 - Join the Occitanie car park - Then the Tramway line 1: stop: Rives du Lez
Think about car sharing with Klaxit to come to FISE Montpellier ! Rides are offered by Montpellier Méditérannée Métropole https://www.go.klaxit.com/montpellier-mediterranee-metropole
Accessibility
Dogs are not allowed within the festival except assistance dogs with certificates.
FISE wishes to welcome all action sports fans!
To best accommodate festival-goers with disabilities, the FISE has set up a dedicated system, for more information please contact us 👉 jean.gasse@sanae-rse.org
I want to become an exhibitor
For any request for an exhibitor stand, please contact our teams by email 👉exhibitors@fise.fr
I want to become a volunteer
To join the FISE Crew from May 17 to 21, 2023, you can send your application HERE, for any questions, please contact our teams by email 👉 benevoles@fise.fr
I want to come as a media / photographer / content creator
All accreditation requests to our press service go through this platform 👉 HERE

SCNF - +=0
Plan your train journey on the SNCF website. Young people coming from different points in Occitanie have the opportunity to benefit from a 50% discount to travel to FISE by train liO thanks to +=0 and the Fairtiq app.
The objective of this unique measure in France is to offer users aged 18 to 26 free travel in a loyalty contract without commitment. Code name: "+ = 0", I travel more, I pay 0. This is achieved by creating a "mobility account" that is credited with each trip made.