BangingBees | FISE Up December
Snowboarding culture with Julien Mounier
It's that time of year, that time when the mountain is calling, when you're going to do some infidelity to your street, park or other style to look for the slope, the powder, the little cliff or some well-shaped hips at the snow parks. To welcome winter, allow us to present BangingBees, an independent and ultra active core snowboard media as we like. In parallel with a compilation of the best moments from their events of the past year, let's discuss passionate journalism with its creator, Julien Mounier.
Interview : Ben Bello
Pictures : Thibaut Viard
How did you discover snowboarding?
I was lucky enough to have parents who had an apartment in the Alpes-de-Haute-Provence, so I started skiing when I was very young. I discovered snowboarding around 13 years old in the mid 90s, considered the golden age of snowboarding in terms of influence. The whole scene, the videos, the magazines and the brands made me dream and I completely fell into it.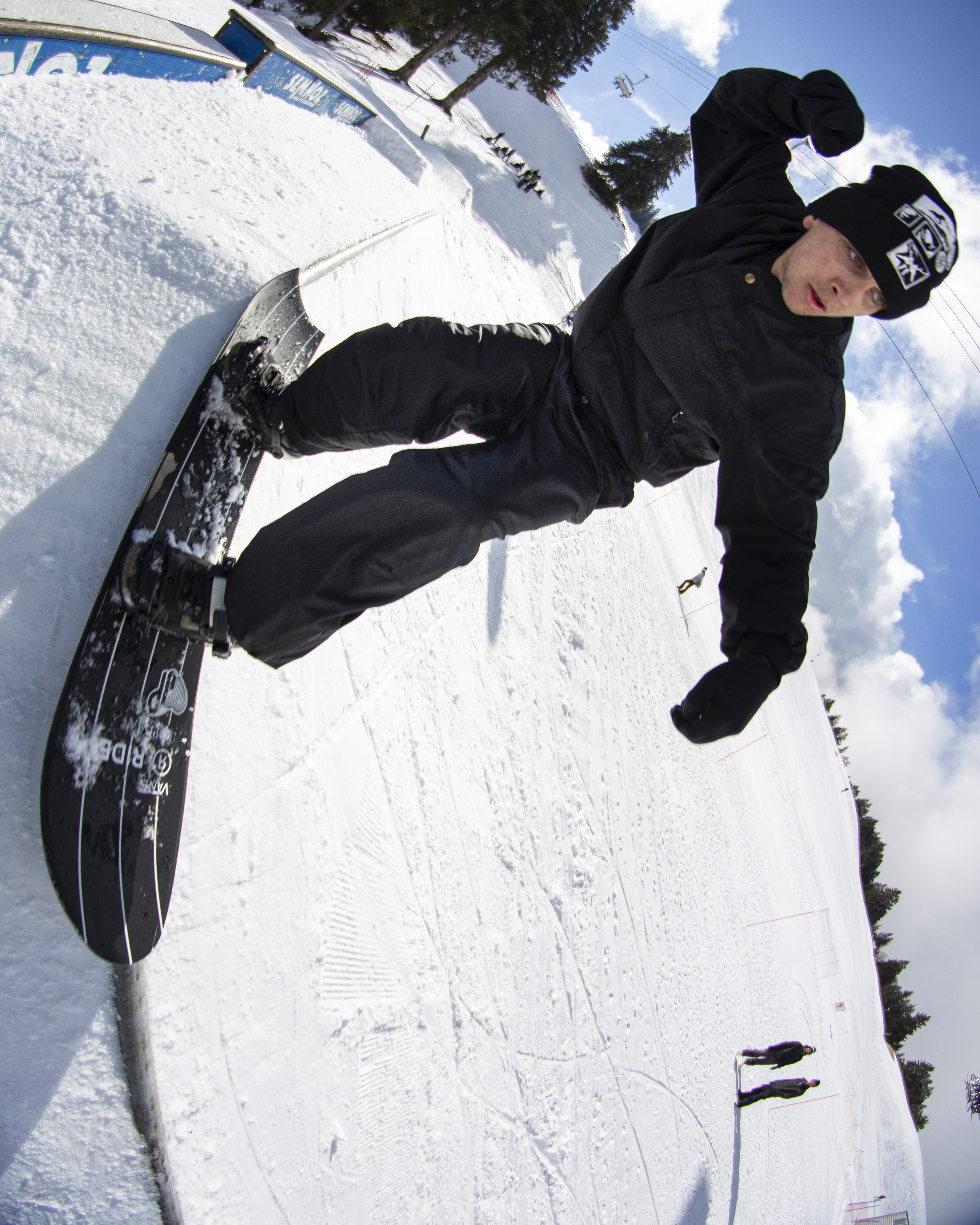 How did you feed your appetite for snowboard media?
I've always been a bit of a geek when I'm interested in something. Before snowboarding, it was football, comics, music and I devoured all the media that talked about these subjects. I very quickly started buying all the snowboard magazines I could find. Snowsurf and Freestyler were my bibles and I also bought all Transworld, Snowboarder Mag and especially Blunt which was the reference. Same thing for videos, except it was more expensive and harder to find. But we used the tapes of the first Mack Dawg and Standard as well as the few French VHS that were distributed in magazines.
How do you go from practitioner to journalist?
I always wanted to be a journalist. With my friends we started making little crew videos in Auron and Isola; it allowed us to become friends with other riders who were also in this crew thing. It was fun and we didn't take ourselves too seriously. You would meet guys from places you had never been before and they would almost instantly become your buddies to go ride and party. It was mainly on the glaciers in summer in Tignes and Les 2 Alpes that everyone met. That's where we met the guys from Advita and where we went to ride more often in Avoriaz. From there, I met Jean-No Calvet from the snowpark who took me on an internship as "communication manager for the Avoriaz snow park". And that year, I met Vianney Tisseau who also took me on an internship at Snowsurf the summer after my first year in journalism school. After that I continued freelancing for Snowsurf, making it clear to them that I really wanted to work for them. I tried to launch a magazine called Love Mag with friends. We had made a number zero and we were looking for a publishing house. Nivéales, which publishes Snowsurf, was interested. In the end, it didn't happen, but they offered me a job as an editor. I spent 5 years at Snowsurf in Grenoble and it was a great experience to work with Vianney Tisseau, Denis Bertrand and David Tchag.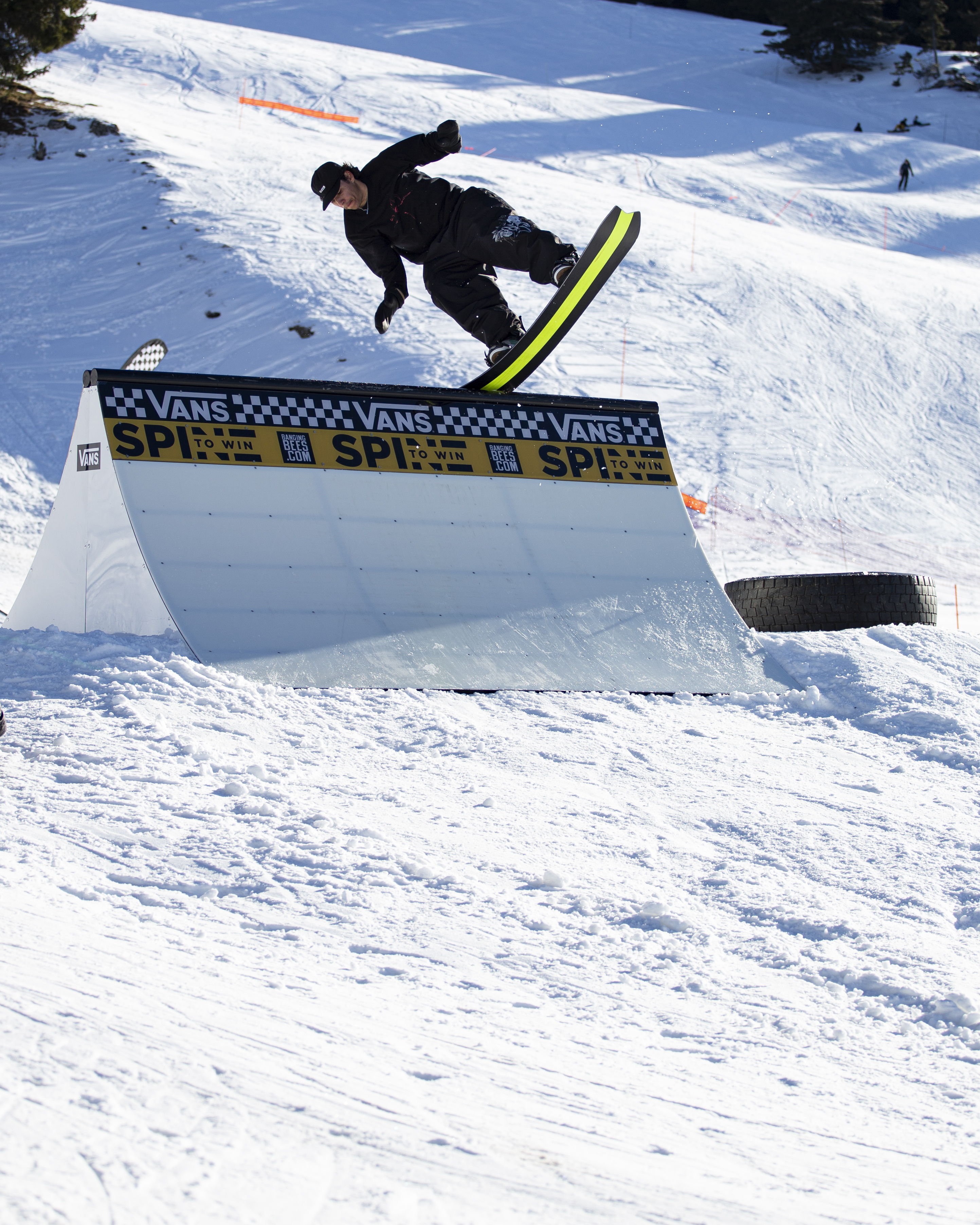 What motivated you to launch BangingBees?
I wanted to launch a media that was more like me so with my graphic designer friend Yann Dechatrette who had taken over the artistic direction of Snowsurf with me towards the end, we launched BangingBees in the fall of 2012, on the web only because it was financially less risky than paper. We wanted to have a selection of videos and articles a little different from what we found in other media, and I wanted to create events, produce content that makes you want to go riding with your friends more than the big productions where tricks are inaccessible. We started to make content and a first event in Chamrousse, which quickly became our base camp because the snowpark was really in the spirit we were looking for. Then it all happened pretty quickly.
Can you come back to these 10 years of BangingBees?
The role of the media has changed a lot in 10 years. When BangingBees started, I spent a lot of time looking for relevant video selections and doing long articles on the site. But unfortunately now we have to do more and more short articles. Instagram has really vampirized the site. To be relevant, a media must offer more than simple repost. You have to create as much content as possible and organize events while having a strong identity so that people adhere. BangingBees started as a web magazine but it also became a mini event and production company at the same time. Because these are the kinds of projects that brands are looking for, so that's how we make partnerships.
Tell us about the importance of these events ?
I think events are important to liven up the scene and get people to come together and ride together. The goal is also to encourage snowparks to prepare fun and original features and then to create emulation so that people have a good time. It has to remain accessible and the pro rider as much as the average rider can ride the module in his own way.
How would you present the spirit of BangingBees in a few words?
BangingBees purpose is to make people want to snowboard and to bring a side of snowboard culture that has been lost over time. I think it's important to post videos and photos of the past to pass on this culture to new generations. That the new strong kid of the moment knows who Peter Line or David Vincent is, that seems necessary to me. But you also have to be anchored in the present and follow new trends.
Is that what the brands you collaborate with come to look for?
Yes, I think they come for the passionate side and the "community" that has appropriated the media. The luxury that I have is to be able to choose the brands with which I collaborate, brands that have images that stick to ours and that want us to do projects in a BangingBees style, even if we remain open to doing slightly different things. I will never have a brand tell me, for example, that you have to make a Red Bull video filmed with a drone with slow motion and dubstep because that would not correspond to the spirit of BangingBees.
If a stranger calls out to you in the street and asks you "how is snowboarding now? "What would you say?
I would say that current snowboarding is diverse and that we find a lot of different ways to do it, that we find lots of beautiful and creative video projects, media that have interesting angles, great events, brands that innovate in terms of boards and clothing, and also fun snow parks where you can have fun without risking your life for the days when there is no powder to ride.
And how do you see it in the future?
I'm quite optimistic. There is a new generation coming. We see it with the snow clubs which have a lot of kids who are already very good and who will I hope create new codes for their own generation and which will bring a revival of snowboard culture, beyond the quickness of social networks.
After 10 years, I imagine you have some people to thank.
I would like to thank Yann Dechatrette with whom I created BangingBees and without whom the project would never have seen the light of day, all the collaborators who helped me on projects (Damien Rousse, Lionel Simon, Guillaume Sturma, Justin Dutilh, Max Vialle, Thibaut Viard, Bruno Rivoire...), the brands that trusted me, the riders who come to the events and my entourage who supports my intense pace of life from October to May.
What are the next events ?
It's happening in Avoriaz with Salomon on January 14, with Ride at Semnoz on January 28, another at Semnoz with Vans on March 4 and the Top To Bottom in Chamrousse on March 25 and 26. But we still have to find dates for other events with Spy and the Simpson Brothers, the Roster, Salomon, les 2 Alpes and surely others, while having a lot of video production projects at the same time so the season looks intense!

Find all and more about the culture on Bangingbees.com or @bangingbees

Here is for FISE UP the best of 21/22 Bangingbees events