SHARE A BIKE, SHARE A SMILE | FISE Up April
SHARE A BIKE, SHARE A SMILE
FISE UP Avril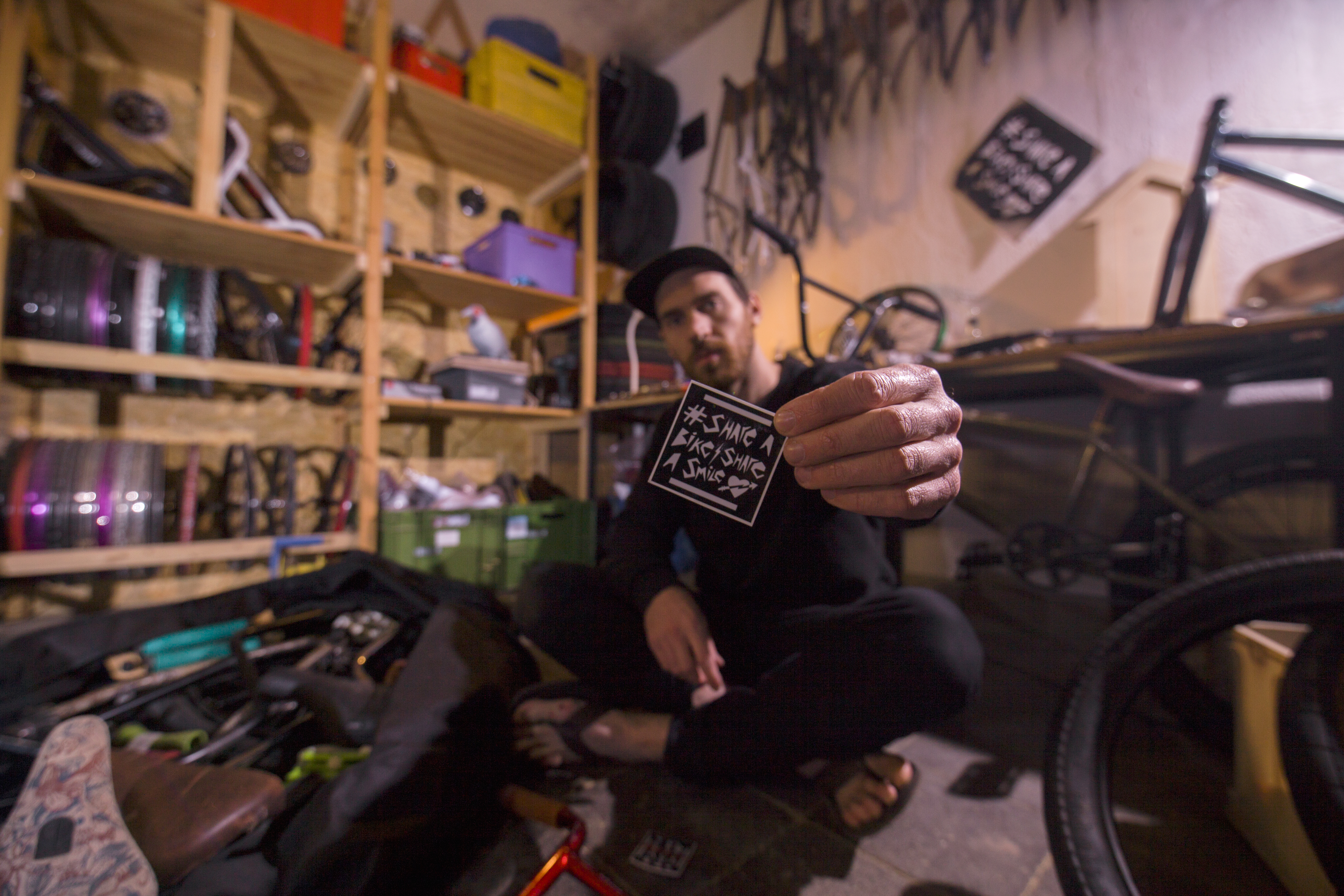 Interview : Ben Bello
Here is the invitation offered by Gabriel Goldsack to mix business with pleasure, that is to say, to help bmx riders in southern countries to take full advantage and for a long time of this passion which contributes to building, also emancipate. SAB,SAS is a non-profit organization to collect and send bmx parts to scenes that badly need them; a project led by an Argentinian emigrated to Germany with inspiring energy, so much so that we wanted to organize a collection of pieces at the next FISE in Montpellier to help the isolated scene in Algeria.
We will tell you more on the networks, in the meantime discover this project by taking the time to read this, and watch the mixtape of their superb actions. Thank you for them, thank you for you!
Hi Gabo, heavy question right from the start, tell us what fuels your desire to be an activist in general?
We can simplify that to a quote someone said to me (from Paulo Coelho) once that had a great impact on me: "The world change with your example, not with your opinion". I believe that if you want to change something, you cannot wait for the change, you have to be the change. You have to be the kind of person you would like to see in the world, as simple as that.
"The world change with your example, not with your opinion."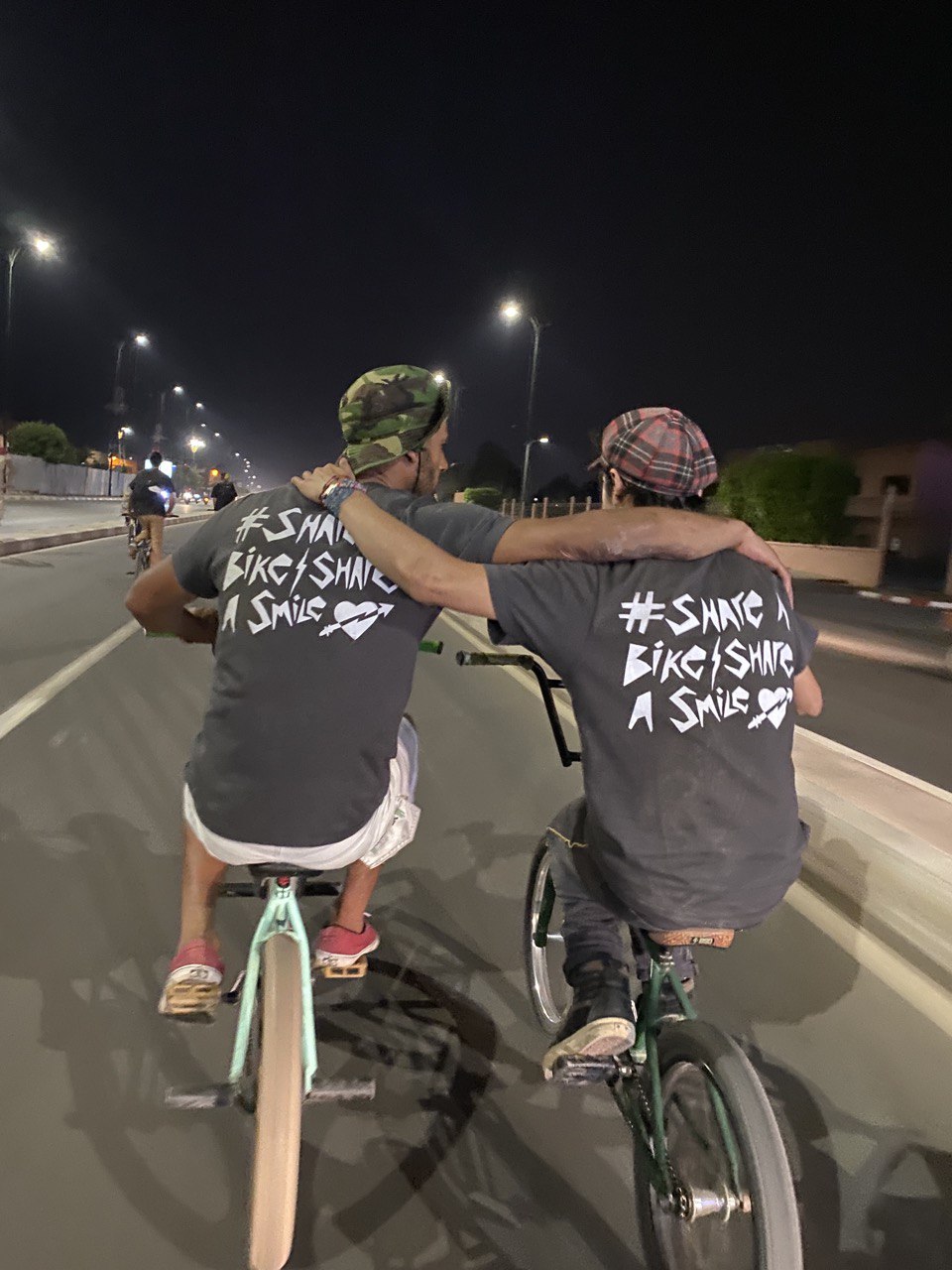 What is Share a Bike - Share a Smile ?
SAB-SAS is an effort to reduce the lack of opportunities that many riders experience in their lives. Many passionate riders have to stop riding because they have no access to good quality parts, no shops, and no distros. While many riders in wealthy countries change their bmx parts regularly, many of those parts end up in their basements although they are in good shape, I'm trying to be a link between those riders to provide good quality parts to those riders who needs them the most, while at the same time reducing our carbon footprint, re-using parts that otherwise would become waste after years of abandonment.
Once the project is economically stable, I would like to support them in other ways like to building trails or wooden ramps. I usually talk with many riders about that, sharing the knowledge is a big part of what I believe in life.
How do you think bmx can help kids in tougher places like the ones you try to help ?
Bmx is much more than a sport. It's a way of living, providing you with a community, objectives, dreams, peace, and a sense of belonging that many of us were missing.
I grew up in a broken family in Argentina, we had to migrate a couple of times. I saw friends that didn't ride bmx or who quit that had frequently problems with drugs abuse, depression, sometimes even criminal activities. The ones that kept riding little bicycles didn't live those situations or they did it less frequently. BMX gave me the opportunity to travel the world; I have always had a helping hand, received good advices and a sense of family which I was missing. I had people caring about me more than some of my relatives.  For some people that we have helped, it might not be like that. For some others, it will be exactly like that. That's why helping is worth it.
A simple bmx bicycle can be the most meaningful gift you could give to someone! We won't stop doing it!

"A simple bmx bicycle can be the most meaningful gift you could give to someone!"

Do you have a specific story that shows the positive effects of your action, not to brag but to show that it's working.
I have many but I specifically like to share the story of my friend Emiliano, which was the turning point to transform something I've been doing for years into the project you know today. Emiliano grew up in Mendoza (argentina), lived some of the same things I've lived. He became a father when he was 15. He had to grow up way faster and eventually gave up riding bmx. Through the years he developed depression, he started abusing alcohol & other drugs. With time things went out of control, the only thing he could think about was those drugs. Being around people with the same mindset didn't help either and they pushed each other deeper inside the hole.
Years later, he was clean and everything looked good from the outside but one day he revealed to me that he was feeling empty, like he had no purpose. I told him that life must be enjoyed & that he should start riding bmx again. His answer however, was clear: "With the inflation of the economy in Argentina I will never be able to buy a bicycle". That day I decided to ask my friends around to build a bike for him. I went through my normal process: collecting parts, starting a fundraiser to pay for the shipping cost, and finally sending him the bike. He was smiling a lot the day he got the bike but that was nothing in comparison to how he felt two days after when he rode bmx for the first time in 13 years. He was in ecstasy when he called me and said: "It was that Gabo! I feel like you've given me my childhood back, my smile is back! Thanks brother".
He has stayed clean ever since, he has the energy and passion he once had. He has started his own company and he is studying again, he's on his way to be a lawyer. That's why I called it "Share a Bike - Share a Smile", that is the impact a children's bicycle can have in a grown-up's soul.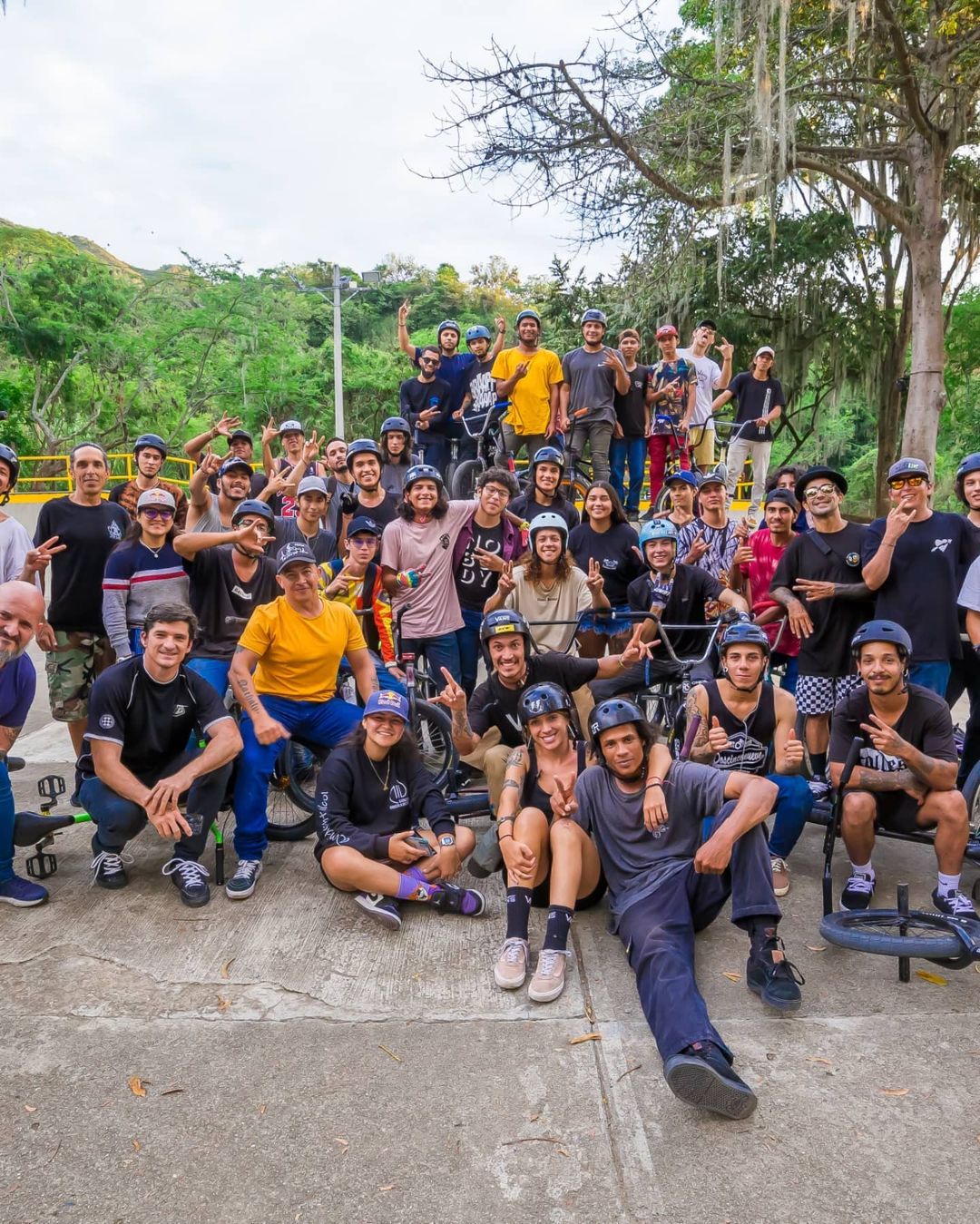 Colombia jam
You have a very precised and sincere motivation behind this project can you explain us what are the key aspects of your action ?

I guess my motivation comes from the love I have for bmx ! Also because I've lived many of the things those riders are living. One of the key aspects of this project is to involve the bmx communities as much as possible.
Each community in each country knows perfectly what they need, which riders are more involved in growing up the scene, which are taking care of others and who deserves what. I don't think we could come and do it better than them, that's why we are doing this with them, their involvement is essential! I don't think we could do it any other way, we are here trying to give them tools to have fun, share the knowledge we have and raise their voices by sharing their content on our IG account.

"We are here trying to give them tools to have fun, share the knowledge we have and raise their voices."

Precision about the parts
I think it's really important to understand that if you have taken parts out of your bike because they weren't safe, broken, can't be repaired or really old (ex. a handlebar that's 7.5 tall, when an average handlebar today is at least 9 tall.) you shouldn't donate them. If the parts weren't safe for you they aren't safe for them. I understand that many people want to help but sending parts in those conditions isn't a great help. I have heard many times: "That's better than nothing", the reality is that many of those riders have "something", what they need are the same quality parts we have been riding for years.
Talks about the Algeria project.
After talking to Algerian riders for some time, about their local scene, spots, the only skatepark they have in the country and their efforts to grow their community there. We always came to the same conclusion, the key factor stopping them is the lack of good quality bmx parts. Unlike other North African countries, getting a Visa to visit Algeria is not easy.
Therefore, they have had less exposure to international riders who could bring parts and help. At the same time, there's a big community of Algerian people in Europe, especially in France, that gave me the feeling that they must feel so closed to all the European bmx culture but at the same time so far away!

I felt like the next logical step was going there and organising a big jam there to share parts we could collect at next FISE, and more I have at home.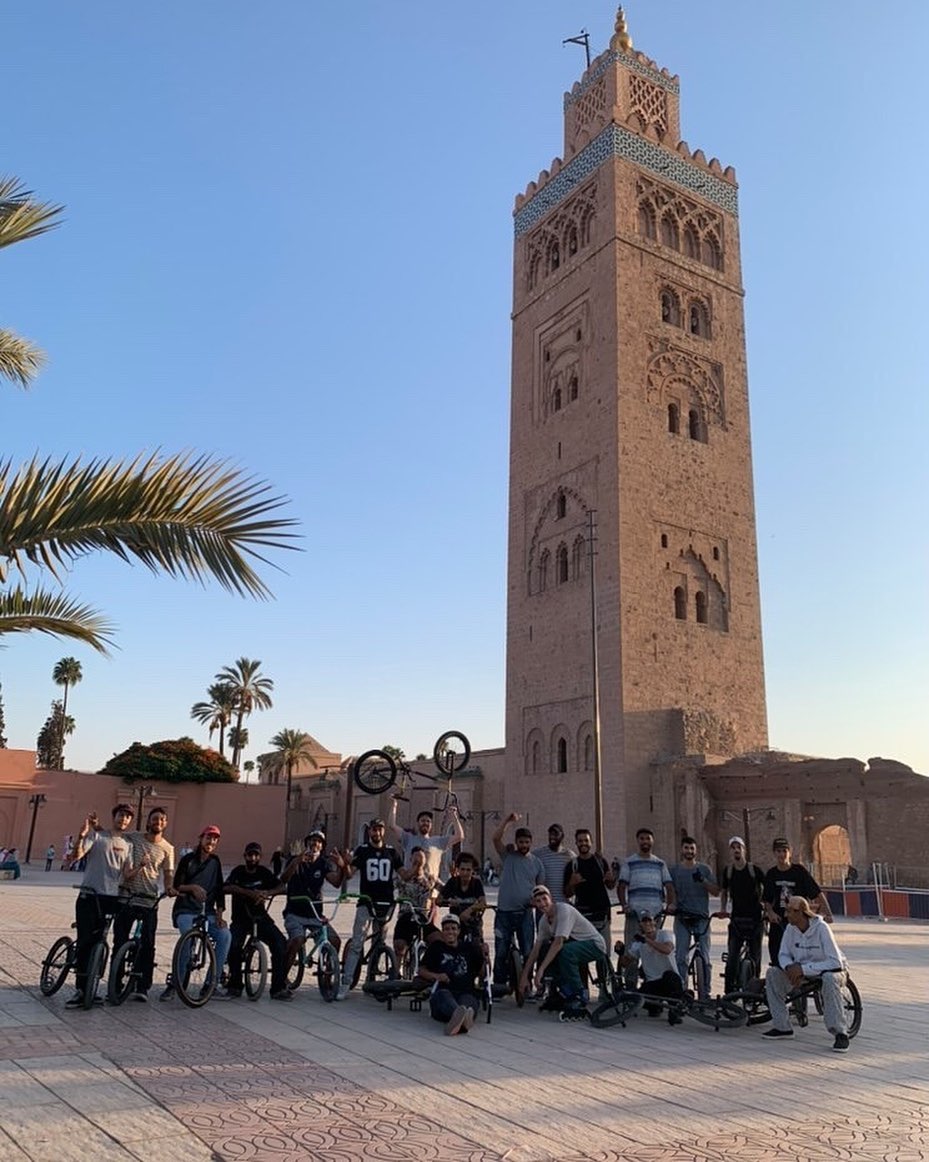 Marocco jam
What kind of help do you usually get from friends? 
My friends are awesome, just to start; this project wouldn't be like you know it if it wasn't for my friend Leo (@elece.bmx). For years I was helping riders, sort of a similar project but in the underground. I did it always out of love and because I saw how powerful bmx can be. Leo saw the potential this project had, he convinced me to get it out and share it with the world, so here we are now! Then you have people that didn't know me but believe in this and helped like Pato from 'The Cut' in Barcelona, he's collecting parts and connecting the project to the bmx industry, Rea who has a lot of experience with her NGO (Straight Up Tarifa) and provides a lot of guidance. Then you have some good friends like Christian Ziegler who is a German bmx legend and is helping with a lot of connections, Jelle & Henrik Bonde collecting parts in New Zealand and Australia to send to Asian countries, Teresa Grauten & Mateo Matiz helping with videos, my girldfriend Kerrin who's helping a lot with the really hard German bureaucracy. She's making some of the art you'll see soon in future projects and she's been a huge emotional support for this project. The list goes on and on, I could write about them all but since we don't have much the time I would like to say to all of you: "I love you, thanks for believing in me and supporting this!". (Carina, Armando, Thade, Magga, Jan, Nils, Arne, Hanno, Albert, Alessandro, Shishang, Andre, Lost Trails crew, etc. You know who you are).
"I did it always out of love and because I saw how powerful bmx can be."
What help do you seek from the riders and from the companies and institutions?
The most needed is people to share what we do, to help spreading the word!
We need more people following us and sharing what we do, in order to get more people and brands involved. At the moment not many riders are aware of what we do, as far as I can tell, there's no other project doing what we do. That's why we have to join forces, spreading the word would help us reaching more riders who potentially could support us with parts or money. Just sharing can help a lot more than what you think.
With that being said, from riders, in general we need good quality second-hand parts & if they can some cash is always welcomed (shipping is really expensive). From companies and institutions, we are hoping to get some financial support. Sending parts to any country in Africa for instance, it's really expensive and usually needs months of work & planning. Some new products, especially good shoes for bmx are needed as well.

"The most needed is people to share what we do, to help spreading the word!"
Isn't it a bit exhausting all these projects and involvement you give to this action? How does your personal life looks life now?

It is exhausting and honestly, I've been having some problems to find a balance. I usually go all in if I believe in a project, as you can see, I really believe in this! This project gave me the feeling of being back in a different bmx world that I was missing for a long time.
Personally, I spend a lot of time working for SAB-SAS, organizing donations, printing t-shirts, keeping an inventory, searching for governmental funds we could get some money from (so far no success with that), talking to riders in several countries, etc. It is a real job! However, I don't get any money from it, nobody working on this project does.
But we get an awesome feeling each time a project was done successfully and we see the happiness in their eyes. At the moment, I also have an injury in my right foot so lately, I haven't been able to ride what gave me more time for other things but I want to get back on my bike as soon as possible.
Talking with an open heart I believe we have the responsibility of sharing a bit of what we have in our lives! Many people don't really know how lucky they are just because they were born in a certain country, we have to share what we can & I'm doing my best to make it happen.
"We get an awesome feeling each time a project was done successfully."
Where can we know more and help ?
You can find most of the information about 'Share a Bike-Share a Smile' on our Instagram (@shareabikeshareasmile), we also have a YouTube channel, Facebook page, and by the time you're reading this our website should be ready (Shareasmile-movement.org).
There you can find a lot of info about us, the projects we have done, videos, some of the ones we are planning, & ways to support us so we can keep helping riders in Africa, Asia, South-America, etc. We also have a pdf in several languages with a small explanation of the project and a QR code to donate. If you could download it and stick it to the wall of your local shop, that would be a huge help!
You can donate to support the project on Ko-fi and Fundrazr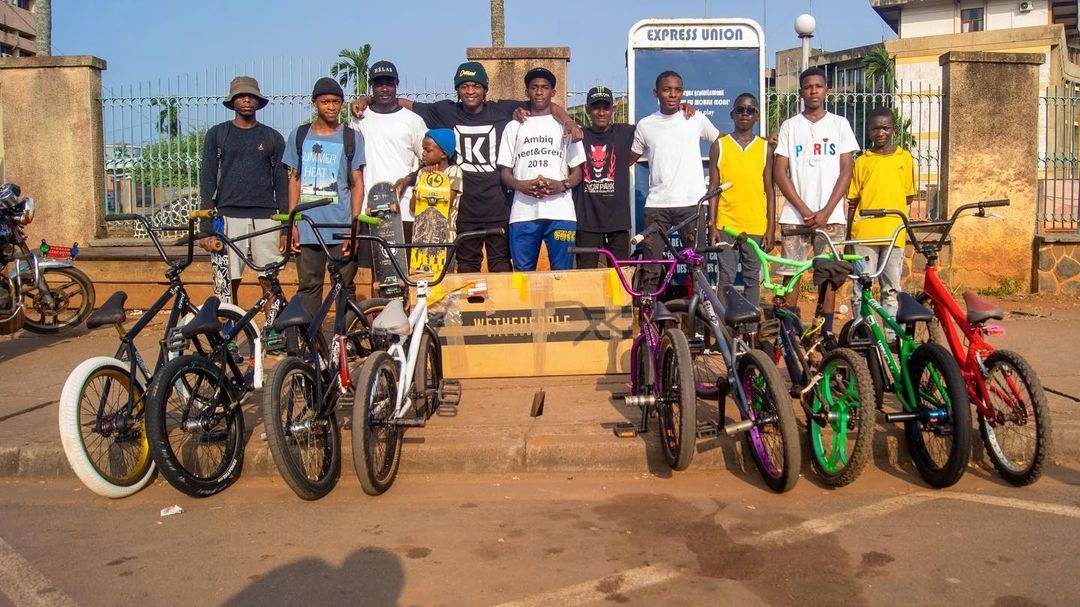 Cameroun scene