We looked back at the biggest names to ever grace the BMX scene and we came up with this top-class list. From world record holders to medal winners, these riders have taken the sport to a new level, and we want you to choose who deserves the title...
We gave you eight legends, but who's your ultimate BMX hero? 
Chris Moeller
"Mad Dog" Moeller has been on the scene since the '80s. From causing havoc in the race scene to taking over the bike business, Chris has established himself as a BMX legend that has no intention of fading out. Founder of S&M bikes, his contributions to the bike world is one that looks like it will remain untouched for a while.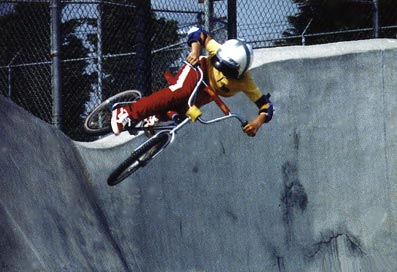 ©23MagBMX
Ryan Nyquist
Ryan Nyquist could well be a robot. Pound-for-pound one of the best BMX riders that has ever lived, Nyquist has also turned his hand to MTB Slopestyle (watch the video below if you need proof). Ryan Nyquist is the perfect example of a rider who made it to the top and stayed there.
Mark Webb
Introducing the Webby Show.  Mark Webb is still shredding and is one of the most influential riders in BMX today. Riding out of Portsmouth, UK, Webby has been a FISE favourite for years and is always willing to push the boundaries of what's possible on a bike.
Denis Enarson
Dennis has been killing it on the BMX scene for the past decade, whether the course is street, park or dirt. His versatility and legendary cannonball bar spins have earnt him gold medals in contests across the globe.
Jamie Bestwick
This veteran BMX rider has skill and talent that's seen him win competitions across the globe. He shows no signs of slowing the pace and continues to debut new tricks and be incredibly active in the sport. He's turned BMX into a life-long passion and is true icon in every sense of the word.
Scotty Cranmer
Scotty tied with Dave Mirra for the most X-Games gold medals in BMX Park, but Scotty's biggest achievement is his recovery from a broken neck. Scotty went from paralysed to back on a bike in 10 months – and he documented the entire journey on his extremely popular YouTube channel.
Scotty Cranmer paralysed to riding a bike in 10 months
Daniel Dhers
We can see this guy riding forever. The Venezuelan is known for his consistency in BMX – if you want to learn technique, he's the man to watch. He put it his skill on display at this year's FISE World Series, taking 2nd overall.
Gary Young
Considered one of the most genuine BMX riders of all time, Gary's attitude towards competing and his fans is one that's lauded by many. A technical rider and one with great skill, Gary has made a massive contribution to the sport and continues to do so.
You can vote for your
Ultimate BMX Hero
on
F
ISE Instagram Stories
. The vote will go live from
Thursday 31st January
, so make sure you make your vote count!