FISE World Series 2019 overall winners
UCI BMX FLATLAND WORLD CUP WOMEN

 Today, was final stop of the FISE World Series 2019 and we have noticed at every stop Montpellier (France), Hiroshima (Japan) and Chengdu (China), the level has continued to improve amongst the girls in BMX Flatland. The fact that this competition is now a UCI BMX Flatland World Cup pushes riders to exceed their limits and offer exceptional shows at each stop. 
When we arrived in China, Misaki Katagiri was at the top of the ranking. Austrian Irina Sadovnik was in 2nd after excelling and in Japan and France with very technical tricks and great style. And in 3rd was Céline Vaes, the French girl who started recently a continues to train hard and has been selected to represent Team France.
 
In Chengdu, Misaki Katigiri  once again won the stop with her complex sequences controlled with great style. Irina Sadovnik was in second position with her technical style and with ever more difficult tricks. In 3rd was German Julia Preuss who produced some mastered sequences. 
In the overall FISE World Series, no surprises for the first place on the podium because Misaki Katigiri won at every stop getting a total score of 30,000 points. Then in second place Irina with 26 200 points and in 3rd, it is the French girl Céline Vaes with 22 100 points.
The overall competition of the UCI BMX Flatland Women 2019 World Cup is dynamic, on each stage the girls evolve together in a coherent way and we can't wait for the next season.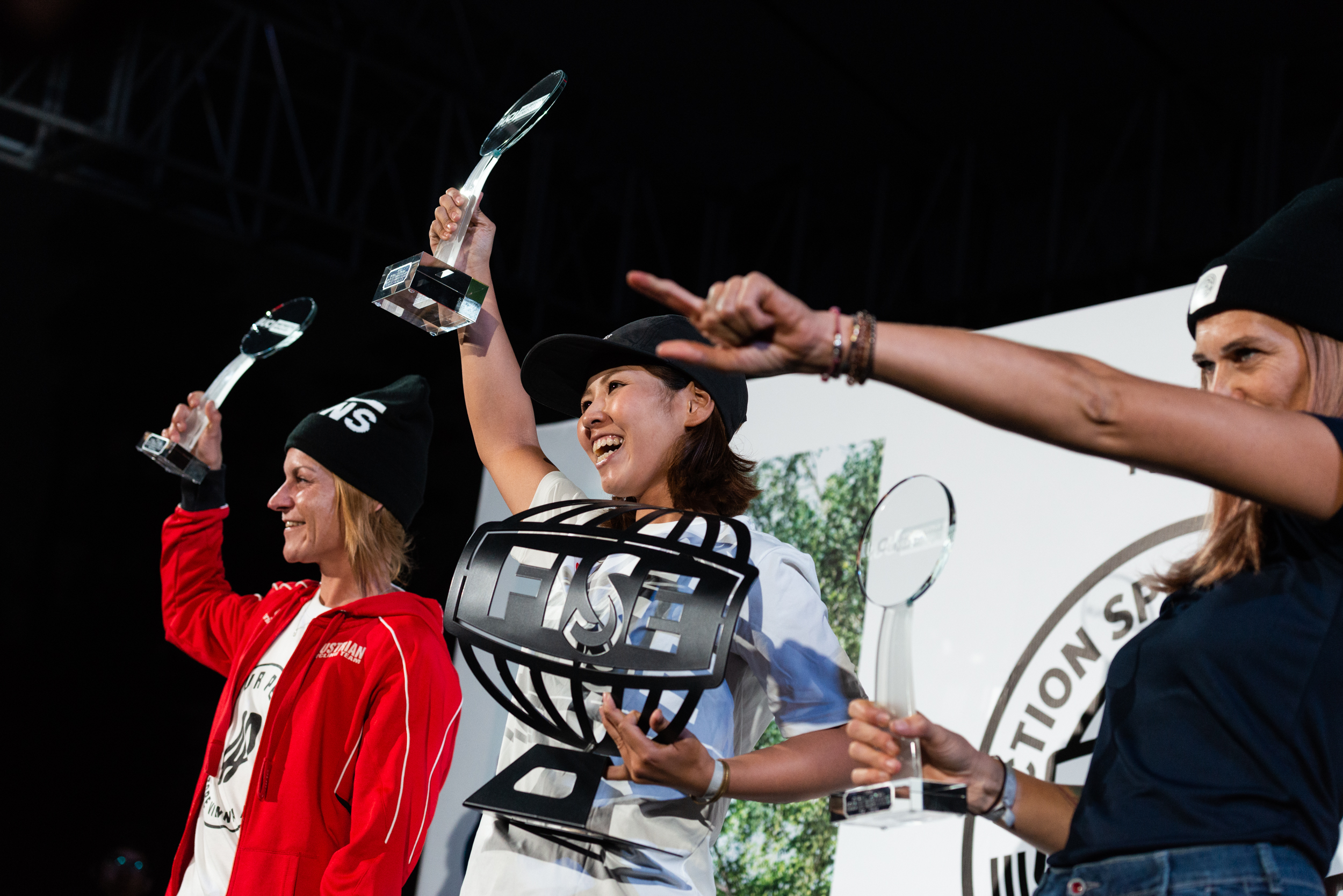 UCI BMX FREESTYLE PARK WORLD CUP -  WOMEN
Hannah Roberts wins the UCI BMX Freestyle Park World Cup!
Despite her young age Hannah Roberts has been at the top of the women's BMX scene for years and she just gets better and better. It was a clean sweep for her in this years World Cup as she won every single stop. In Hiroshima back in April she proved just how resilient she is when she fell on her first run, but came back in her second to produce one of the most outstanding performances we have ever seen. In Montpellier she put on a show for the huge crowd and had all her tricks completely dialled.  She finished the season on a high in Chengdu and was delighted to take home the victory saying afterwards " I just try to ride my best and have fun with my friends."
In second place we have Perris Benegas from the USA. Perris proved to be a worthy opponent for Hannah Roberts this year, pushing her all the way to the final event.  Perris' riding is all about style, she is able to go higher than anyone else and some of her transfers this season have been breathtaking.  She has been on the podium in every city taking 2nd place in Chengdu and Montpellier and 3rd in Hiroshima.
In 3rd place is German rider Lara Lessman. Lara has a huge bag of tricks and is so exciting to watch, you never know what she is going to pull.  She was 2nd in Japan and 3rd in Montpellier and was tied on points with Perris all the way to the final event where she managed to get 4th place. 
Overall the real winner this year is women's BMX, as the level has been off the charts and the progression unbelievable. 
Join us next year for the FISE World Series UCI BMX Freestyle Park World Cup 2020!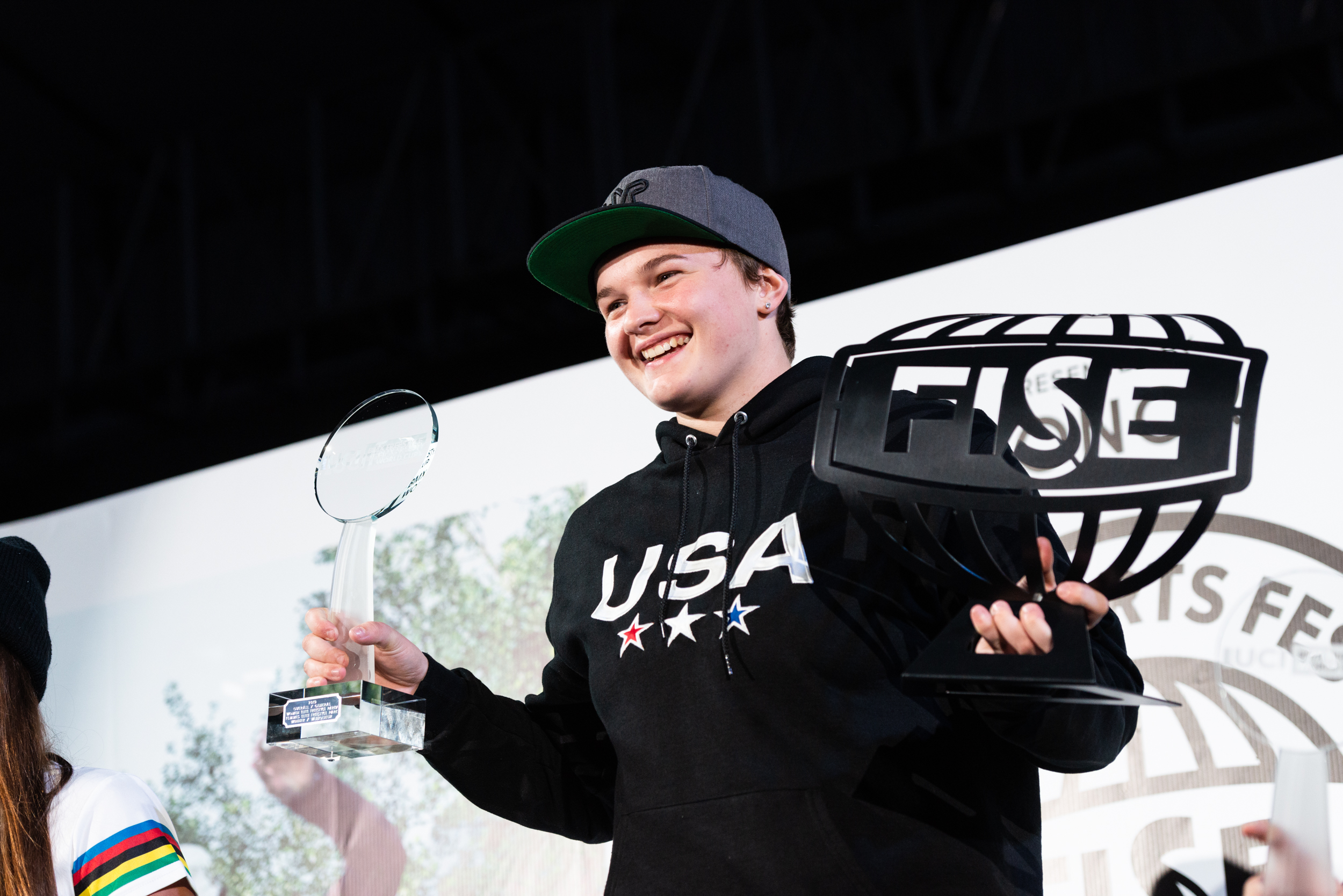 UCI BMX FLATLAND WORLD CUP -  MEN - FINAL 

Dandois Secures title again! 
Matthias Dandois today was crowned winner of the FISE World Series UCI BMX Freestyle Park World Cup 2019! It is the second year in a row he has claimed this title and was delighted to win once again. Unusually for him we haven't seen him win a stop this year, he has been 2nd place in every city we have visited. However that consistency allowed him to walk away with the title.  His riding is so stylish and effortless and he takes inspiration from street riding as well. We saw him produce some new combos this year and can't wait to see what he will come up with in the off-season.
Second place overall was Dominik Nekolny from the Czech Republic who was a delight to watch this season. His riding is technical and he is constantly pushing the boundaries. He manages to link his combos so smoothly and make difficult tricks look easy. He was leading the overall table coming into the final stop but difficulties with a missing bike did not make life easy for him in Chengdu.
In 3rd place we have Moto Sasaki from Japan. Moto ended the season on a massive high taking victory at the final stop in Chengdu. 
Overall it has been another fantastic year for Flatland. Make sure to join us next year for the  FISE World Series UCI BMX Flatland World Cup 2020.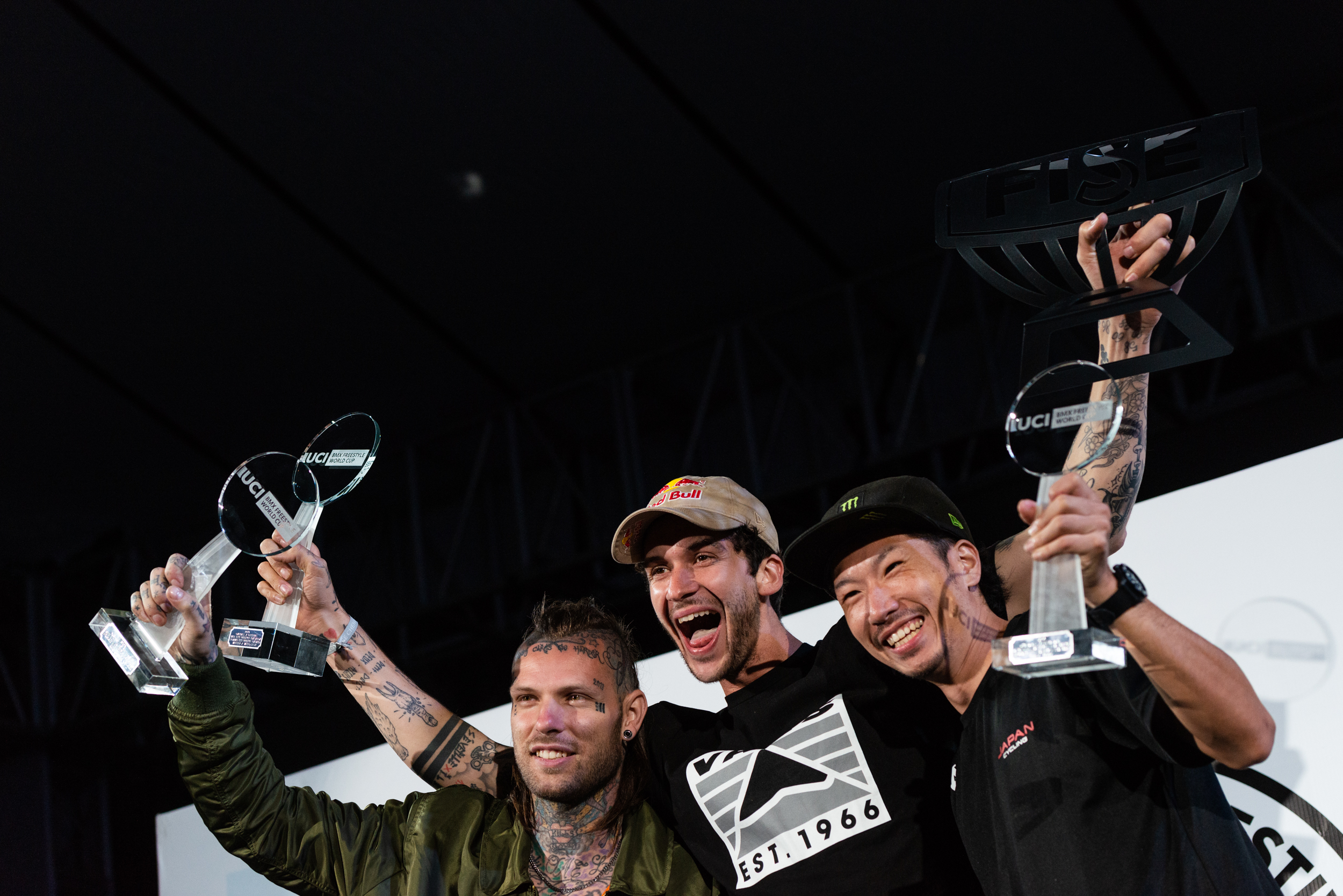 UCI BMX FREESTYLE PARK WORLD CUP -  MEN

Rim wins the UCI BMX Freestyle Park World Cup 2019!
This season has been phenomenal in the FISE World Series UCI BMX Freestyle Park World Cup. We have seen the level of BMX hit new heights as riders push themselves to the limits. 
Logan Martin was on top of the leaderboard going into the last event in Chengdu but in the end it was Rim Nakamura from Japan who took home the top prize. Rim is an absolutely phenomenal talent. At only 17 years old he is already pulling insane multi trick combos and lighting up the BMX Scene. In Hiroshima he was on fire, cheered on by his home crowd and took 2nd place, only beaten by a run from Brandon Loups that many consider to be one of the best park runs ever. In Montpellier he continued to shine finishing 5th overall. He took his first ever FISE victory in Chengdu and he was absolutely delighted! 
In second place is the machine Logan Martin from Australia. Logan is one of THE most consistent riders out there and he can make the most difficult combos look easy. He looked set to take the top place but a cancelled final in Chengdu meant he didn't have the chance to over take Rim. 
Justin Dowell is in 3rd place overall. He is another young rider who has burst onto the scene over the last few years, His signature trick the Twix regularly makes it into his runs, much to the delight of spectators. He won the stop in Montpellier and last year he was the UCI BMX Freestyle World Champion. He is another name we can expect to hear a lot of in the future.
Join us next year for FISE World Series UCI BMX Freestyle World Cup 2020!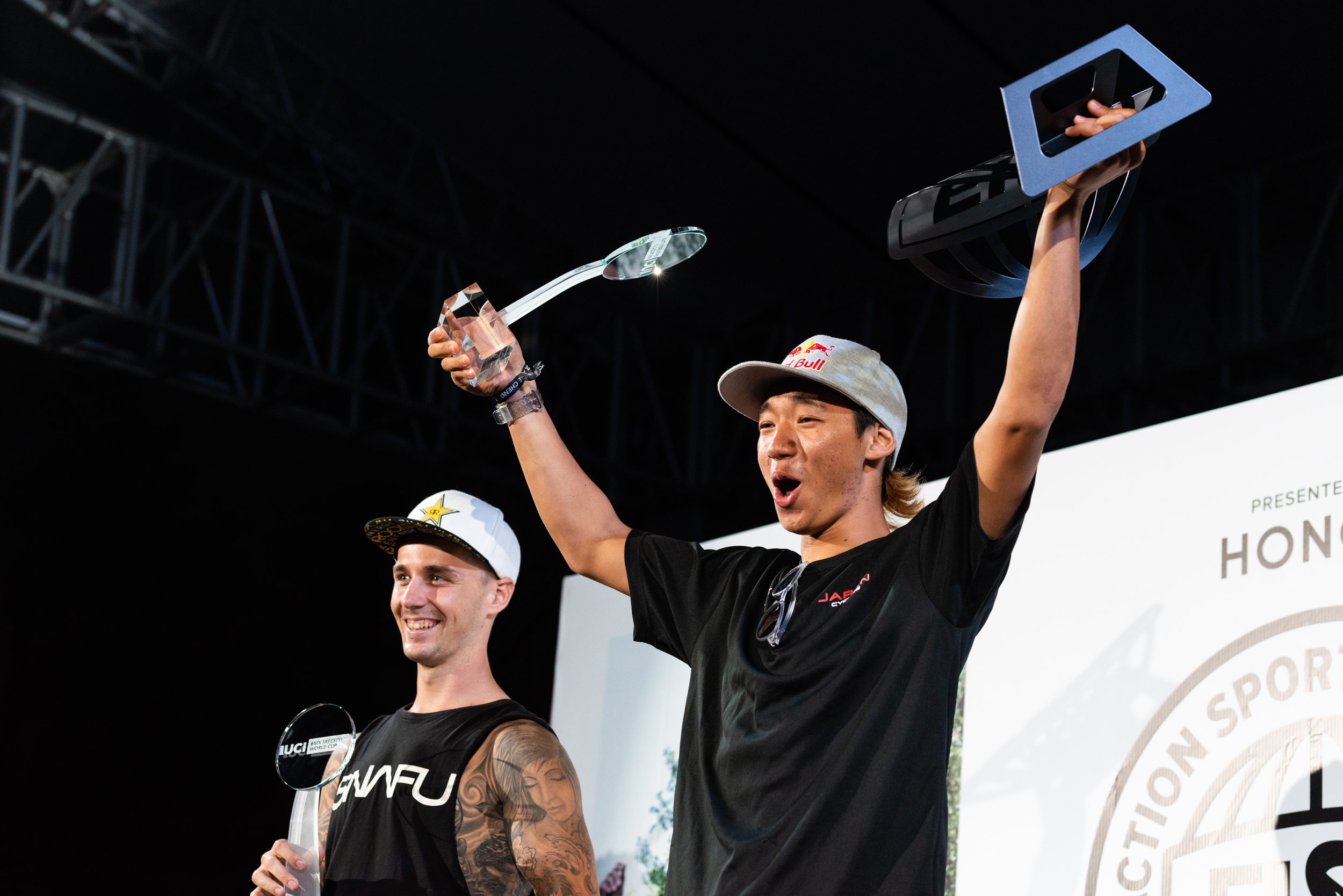 WS Roller Freestyle Park 
It's been an incredible season once again as our international riders are constantly pushing the envelope of what's possible on inline skates. The builders have provided the riders and crowds with evermore creative and imposing skateparks and the riders haven't let them down as they exploited every aspect of the parks to express themselves.
Hiroshima 
The level of the riding in today's final was incredibly high but once again no one could stop Joe Atkinson. He has been skating everyday in the off season and it showed. He looked even better than he did when he won the overall FWS 2018 title last year which we didn't think was possible. In his run today the 720 on the step up was remarkable as he worked his way round the course picking different lines and landing unique tricks. He was scored 84.66 points by the judges to narrowly take the win. He said " the crowd was amazing, the course was amazing, everything was sweet it was a great day."
In second place was who many consider to be the world's best vert rider Yasutoko Takeshi. The crowd were going wild for their local hero from Kobe, Japan. The air he was managing to grab was unreal as he literally flew around the course. Judges awarded him 84.00 points to take the second step on the podium.
In 3rd place was the Australian mad dog CJ Wellsmore. He went wild in his run packing in trick after trick, the alley-oop 270 over the box and the Fakie 5 were notable. He improved from his first run and scored 83.00 points and take 3rd place.
Montpellier
RECAP ROLLER FINAL
At the time of the « Apéritif » and after a full afternoon of actions sports the Montpellier crowd was heated to cheer on the Inline riders for their last runs of the week.
EXOTIC TRICKS
As usual CJ Wellsmore shared with us a taste of vacation with his Hawaian shirt and eternal good vibes. Another bit of refreshment and exotism came from 14 years old rider from South Korean, Yoon Jay Jonghyun, definitely a name to learn how to spell as we will write it down on many occasions in the future. Maybe just shout his name YOOOOOOOON and wait for the brillant actions that result. Spinning on every obstacle, his skating seems to be more mature that it should be at such a young age. He finished 5th for his first trip in Europe and made his daddy proud.

INTERIOR AFFAIRS
On a more usual note, the french troop was on point again this year. Yuma Baudoin (2nd), Roman Abrate (3rd) tried to challenge Jeremy Melique who was on fire all week long but they both felt short. The course seems to fit Jeremy's style and nothing prevented him from winning the event, not even a dialed run from Joe Atkinson. Although everything looked so fine with the british rider, the judges felt it was not enough to challenge the blue-white and red's. 
DADDY JEREMY
Hands up today for Jérémy Melique who could not hide his joy. After having a kid in the past month, he is now winning his first FISE World competition. Winning a FISE is defining moment and can give a lot of confidence; obviously having a kid too,
Let's meet in Chengdu, China in a few month, hopefully enough for Julien Cudot to recover.
Chengdu 
It was a sunny day in Chengdu, China for the final of the last stop of the 2019 season. The level was exceptionally high as riders from all over the world competed for the top spot in the contest. Everyone was impressed by the design, layout and creativity of the new freestyle park. Hurricane parks have really outdone themselves to provide the riders with a course that allowed them to express themselves.
CJ Wellsmore takes home the win with two perfect runs even succeeding in beating his own first run score and ending up with a whooping 88.25. This high score is well deserved as he skated fast and smoothly. His runs were flawless and technical and he managed to get a gnarly backside UFO grind atop the immense 5 m high vert-wall that could have won the best trick contest. Despite this win he isn't able to beat Joe Atkinson on the overall ranking but still gets 2nd place with 23.100 points.
In second place comes Joe Atkinson with a score of 85.25. Joe's smooth and ample style always pleases the crowd and judges, going as far as attempting a double backflip on the big jump box but falling on his knees.
Finally, Diako Diaby takes the 3rd spot on the podium with an 84.37. His amazing flips, rotation transfers and high-flying style have impressed the judges. It's not enough however to give him a better overall ranking.
The best trick contest was especially spectacular with Diako winning with a massive backflip zero spin transfer from the hip to the vert wall. Romain Abrate, third in the overall ranking also impressed with a huge 900 transfer from the jumpbox to the hip box. CJ also added his grain of salt with a very technical 450 full torque 450 out on the hanging ledge.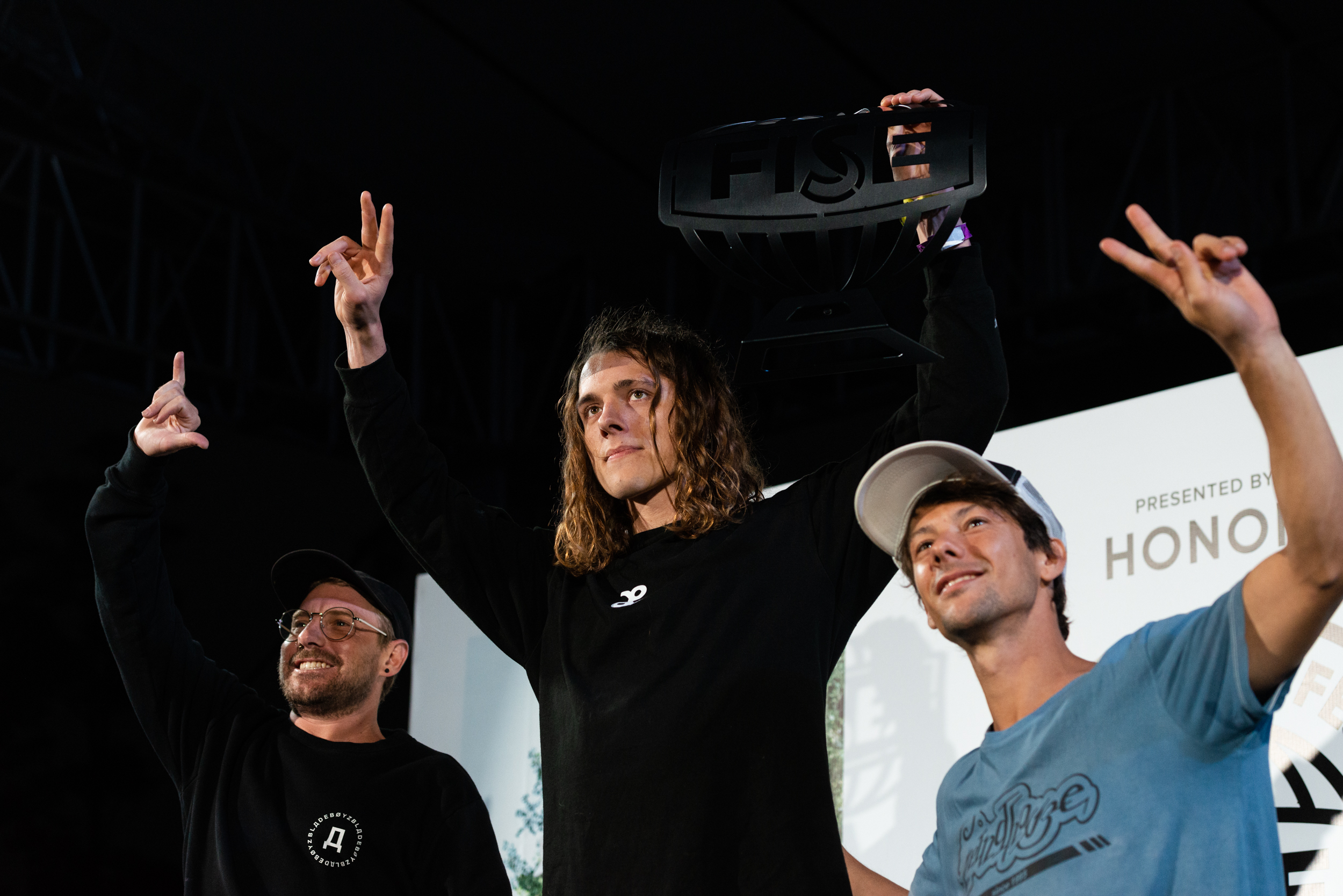 WS Roller Freestyle Park Women
Consistency master won her second overall title on the WS Roller Freestyle Park World Cup
 
Nasty slams, huge drops, innovative lines and big trick combos, FISE World Series fans and spectators have enjoyed a thrilling season from the feminine half of the Rollerblading planet. It all started in Hiroshima in April, where last years overall winner Manon Derrien has been kicked out of the top spot because of a couple of small mistakes. The Spanish grind queen Maria Munoz goes big to reach the second place, but Misaki Katayama was unbeatable thanks to her very technical lip tricks. 
Then it was time to gather in Montpellier, where the biggest action sports party was rocking May. Chihiro Azuma, 22 years old, took advantage of her first trip to France to lace two absolutely stunning runs: smooth, stylish and technical. She simply owned this course from start to finish and rolled away with the gold! She was followed  closely by Manon Derrien and her super clean run. The podium was full filled by the local rider Lisa-Marie Authié, with a high speed run which started with a massive misty flip on the fun box.
It was now time to wrap this stunning season, and it went big even on the park size which literally exploded. And it's easy to say that consistency and contest experience was the card to play to win the so expected title. Manon Derrien did it again, and goes away from China with a well deserved second World Cup Winner title in the pocket. Second was Spanish Maria Munoz, who took so many risks this season and delighted the crowds with her ability on rails. The third step is grabbed by one of the youngest riders in the contest Juria Takebe, who rode in Chengdu with such a massive smile on the face, we hope to see her on the tour next year !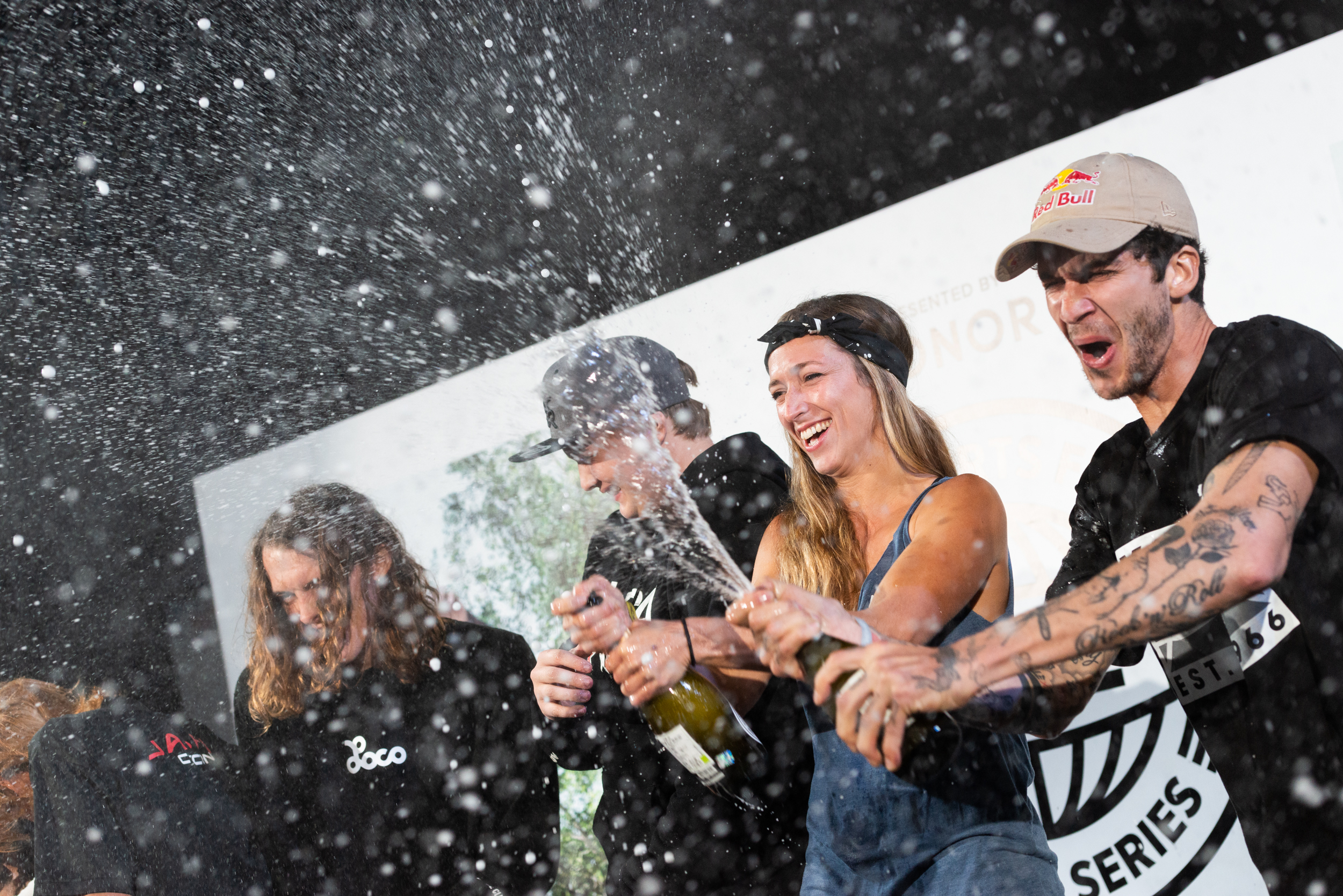 Skateboard street
It's been an especially good year for skateboarding at FISE. The level has been incredible as more and more skaters have been joining the contests and bringing their style and bag of tricks.
Hiroshima 
The first stop of the year for the Skateboard Street Pro World Series gave us one of the most spectacular contests we've ever witnessed. The level was extremely high and some of Japan's most prolific riders showed up to display their blend of technical and stylish skating. Unsurprisingly, Japanese skaters took every spot on the podium despite international riders like Ke'chaud Johnson and Richard Tury landing solid runs.
Ryo earned a whooping 91.85 with a first run packed with speed, style and smiles. He casually landed extremely difficult tricks including a nollie big spin fs boardslide, a hardflip fs boardslide and a switch fs flip on one of the quarterpipes. He also surprised everyone with a huge late shove-it across the big table. It's an exceptionally heavy and technical trick especially since he decided to do it in the middle of his run, displaying his ease and confidence on a skateboard. This was enough to put him in first place but he still graced the crowd with an amazing second run.
During the best trick session, he also landed one of the gnarliest and most technical tricks ever, a hardflip over the 6 meter long flatgap.
Ike Keyaki came in second place with a run that would have won the contest if it hadn't been for Ryo's skating. Ike showcased the incredibly high level and casual style of Japanese
skating. He started strong with a flawless switch fs feeble down the rail and followed with a perfect bigger spin on a quarterpipe, a fs nosegrind on the quarterpipe and a switch heel front board on one of the flatbars. This earned him a very respectable 90.10.
Aoki stomped a flawless run starting with an enormous Tre-flip across the small table, and featuring a nollie bs 360 shove-it bs lipslide down the big rail, and a 10m fs feeble across and down the rail in the middle of the park. He also showed his skill as a transition rider landing a massive fs kickflip indy grab transfer on the biggest quartepipe of the course. His efforts are rewarded with a score 88.72 putting him in the third spot of the podium.

Montpellier Snipe Skateboard Street Pro Final Concrete Park
The heat was on for one the biggest stops of the FWS in sunny Montpellier. This contest will be remembered as it featured FISE's first fully concrete skatepark with huge gaps and rails. All of the skaters did it justice by laying down some of the gnarliest tricks ever landed during a FISE contest including a few NBDs (Never Been Done).
Ever since Ke'chaud started participating in the FISE skateboard contests he's been a crowd favorite. He rides with unparalleled speed and power and he always finds the biggest gap to clear. This year was no exception as he landed a huge street-gap transfer to fs feeble that wowed both the crowd and judges. His run was flawless as he graced us with a fs noseblunt slide down the big hubba, a perfect kickflip across the table and an unexpected fs board up the middle rail among others. His energy was rewarded with a 84.25 putting him in a well-deserved first spot of the podium.
Ike Keyaki's casual style earned him the second spot of the podium. He effortlessly landed an extremely difficult switch heel fs board down the rail. 
Contest veteran Simon Stricker delivered a pretty good run with a fs tailslide 270 out on the bank to ledge, a perfectly stylish nollie heel flip across the street gap, fs noseblunt slide, technical but sketchy nollie heelflip bs noseslide, unusual bs feeble to fs boardslide on the flatbar. No falls and a run packed with tricks and speed earns him the 3rd spot of the podium.
The best trick contest was insane as Ryo landed a switch fs flip 360 on the bank to bank, Kechaud managed to get up the big rail with a 50-50 grind and finally Brandon Valjalo surprised everyone with a crazy bs 180 late back-foot flip over the street gap.
Chengdu Vogue ME
The final stop of the FWS in Chengdu, China was presented by Vogue ME. Riders came from all over the world to compete on a beautiful sunny day.
This year's park kept everyone on their toes with a succession of rails, ledges, gaps, banks and quarterpipes. This year's new obstacles included a huge new rail to bank, a fat flatbar, and a tiled bank reminiscent of San Francisco's famous China banks. 
Ivan Monteiro came out on top with a flawless 1st run including some very technical tricks like a beautiful gap to backside noseblunt, a Tre-flip to fs lipslide on the A-frame rail, and a halfcab backside noseslide 270 out on the low to high. This earned him a very respectable score of 87.25. He had declared that he had come to win and so he did. It's the only stop of the tour that he participated in so his win didn't affect the overall ranking.
 
Ike Keyaki displayed his incredible skill on a skateboard with a flawless 2nd run that included a nollie bigspin lip to fakie, an amazingly clean switch fs feeble down the rail, and a rare bs noseblunt on the A-frame rail. He skates casually and with a lot of style while he stomps very technical tricks. He ends in 2nd place with a score of 85.25, effectively making him the winner of the overall ranking meaning he will be invited to every stop of next year's FWS.
 
Finally, it's street technician Richard Tury who takes 3rd place with a score of 83.00, as he stomped down a perfect run with no bails. He managed to land his signature heel flip bs boardslide, a kickflip noseslide, a heelflip fs lipslide and an unexpected varial heel bs boardslide down the rail.